Recently, I've been applying to perform at art and gay culture type nights and events and being knocked back continually.
Is it because I'm a woman? How many women regularly perform in the British gay/arts scene? Pam Ann and Amy Lamé are the only two I can think of.
When I lived in Austria, my Tranny with a Fanny lark got me noticed, here, it seems to be more of a hindrance.
I don't think I'm amazing by any means, but know I put a bloody good show on. It's very disheartening especially when I see what dull crap is being put on.
It makes me stronger yes but fucking annoying non the less.
I'll always want to perform in both the straight and gay scenes but its frustrating being kicked in the fanny by your own. If you know what I mean.
Another thing that gets on my tits is the queer lady mags having no interest to the point of being snubbed. Maybe it's because I don't conform to a lesbian 'box' or strum on a guitar going 'ooooh I want me Birckenstocks back but the bitch took them awaaaaay"?
I'm no role model or spokesperson (as I identify as queer, not gay per se) but I do offer an alternative.
On a lighter note....
I'm gonna be on the breakfast show for BBC London Radio this Saturday morning (22/09/07)
How amusing to get a spot on the BBC….with my reputation.
7-9am
Tune into 94.9 FM (for London based folk) or go to

http://www.bbc.co.uk/london/radio/
.
Call in, ask me anything. I'd like to be cheeky but guessing it being the morning and the British Broadcasting Corporation, I might have to behave myself.
Yesterday's Fashion East Show was interesting. Stand out was Noki's NHS project (Noki's House of Sustainability). Incredible and original stuff put together without the pretension that often goes with fashion. JJ is a lovely and unasuming fashion person and deserves the notoriety he's sure to get after this show.
See the photos
See the photos
here. Pages 3 and 4
I've only done two days of London Fashion Week and I'm pooped! All that free booze….and no food (its fashion darrrrlink…people don't eat). I really don't know how people manage it for a whole week here... then go to Milan and Paris. Too much.
Some of the models were so emaciated, I wanted to chuck pies at them with a catapult.
And for some reason at the Giles Deacon party last night-there were a lot of screaming girls and one in the toilets demanding a note so she could get coke up her beak. Dear oh dear. Where's the mystery eh?
Got lots of free makeup and bits n bobs which is always nice but fashion really isn't my bag y'know. It's nice to hang around on the outskirts and watch it all going on but not something I'd ever want to be involved in.
I certainly have an interest in glamour but not so much in the industry......Unless I was someones muse and they wanted to make me fabulous frocks.
Pic from the Boom Box Book Launch
http://www.dirtydirtydancing.com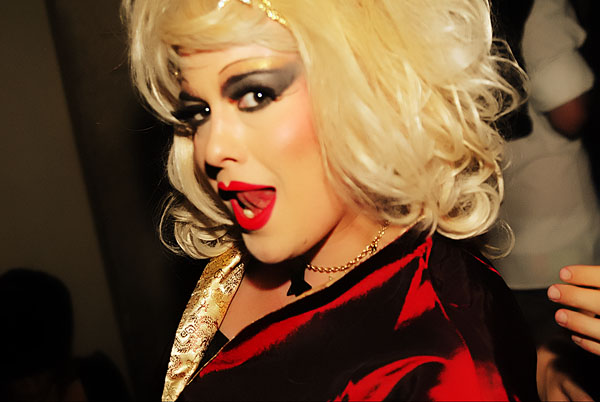 I'm off for a big fat chocolate cake.
x